Home and Home Office
Affordable PC's for Home and Home Office. Still built with select high quality components these systems are perfect for basic computing functionality and the occasional gamer for home or office. Using the Intel® Celeron D® or Intel® Pentium® 4 and Pentim D processor these systems will get the job done.
Power PC


High performance and the latest technologies combine to bring you a great PC experience. With Intel® Pentium® 4 HT or Pentium D (dual core) Processor speeds upto 3.6Ghz, cutting-edge graphics and processing power combine for competitive gamers and home business users. Featuring DDR2 533/677 memory support, optional Serial ATA drives, FSB speeds to 800MHz and Multi channel audio these systems deliver a powerful experiance. The Intel® Pentium® 4 with EM64T processor is the latest and future generation of Intel processors designed to deliver advanced performance for emerging web and PC technologies. Based on Intel® NetBurst™ Microarchitecture, the Pentium 4 processor provides superior performance for users who demand the latest technology.
Silent PC


There's quiet. And then there's ultra-quiet. The kind of quiet that even meditating monks would envy. We designed our Stealth Silent PC with that sort of blissful silence in mind. The Stealth Silent PC is upto three times quieter than a comparable high-performance mid-tower case. How quiet? As low as 25dBA. Which means it is literally quieter than a whisper. Just like we promised. Quietly the best.
Gaming Power
As a serious gamer you know what you want and need. POWER and these systems deliver. Ultimate technology for intense gaming and graphics; perfect for demanding multimedia environments also. Get ready to experience the ultimate gaming machine with features that include Intel® Pentium® 4 processor with speeds upto 3.6Ghz and 800Mhz FSB and Hyperthreading. Upto 4GB of ECC or non-ECC Dual channel DDR400 memory. Serial ATA drive support with Raid0 striping for maximum performance.Integrated Intel® PRO/1000 Network Connection via CSA bus for vastly superior connectivity speeds vs. PCI-based solutions. Nvidia FX or ATI Radeon - SLI capable graphics options, 8 USB ports, firewire and a 6in1 flash card reader these systems are ready to win on the battlefield or handle any multimedia programs you choose to throw at it.
Let There Be Light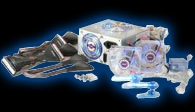 Want to add some personality and flare to your system. We have many options to Light EM Up.

LED Light Bars for internal and external applications.(external are powered through USB) LED Light Tubes are designed to add color and excitement to your desktop, room, or gaming session. Works with Sony PS2, Macs, and PCs.


LED Case fans help protect your whole computer investment by providing case cooling to reduce component-killing heat buildup, thus increasing the longevity of components. LED fans combine practicality with an impressive light show.


UV Fans are Ultraviolet Light activated. Add them to your UV-Modded rig for an impressive new effect.


Power and more, with these colorful power supplies. Same reliability as the standard power supplies in the Stealth systems with a colorful lighting effect included.